Fits 2" receivers
The Hogfish hitch cover is made out of stainless steel. The oval has a brushed finish and the Hogfish is polished to a mirror finish. 
Artist behind the designs
Meet Shawn Jones, owner and artist behind Custom Hitch Covers. In 1998, Shawn started making and selling hitch covers in craft malls in the Dallas and Fort Worth area.  After a few years of his craft business growing it was time to launch his hitch covers on the world wide web. In 2001, Shawn founded Custom Hitch Covers with the sole purpose of manufacturing heavy duty custom hitch covers. After being in the metal manufacturing business all his life he has learned to take pride in his work. He has not only made hitch covers for over 20 years, he has turned it into an art. There is no other hitch cover company that has done this. Even though the designs are cut out with a machine, they are constructed by hand all the way down to the last detail.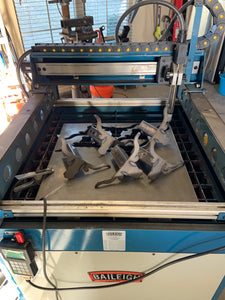 CNC Plasma
Thermal Dynamics High Definition Plasma cutter with machine torch tube and Baileigh CNC  plasma table. 
Made in the USA
All our hitch covers are proudly made in Fort Worth Texas. 
We have over 200 different designs in stock. Click on our catalog at the top of this page to see our designs.
If you do not see what you are looking for then ask as we may have made it before.  We have made over 2,000 different designs in the past 20 years.
Email address: sales@customhitchcovers.com
"The army infantry hitch cover that I bought for my husband is absolutely stunning!! My husband couldn't wait to put it on his truck. The person making these hitch covers is truly gifted!!"

Tina R.
"I absolutely love this hitch cover! Super high-quality stainless that looks great even when my vehicle is dirty! Thank You!"

Jennifer G.
"Very well made and fast shipping looks great"

Richard K.